Philadelphia is no stranger to long-term recovery from substance use disorders. For decades the City of Brotherly Love has been home to thousands of mutual-aid recovery meetings, prominent non-profit clinical treatment foundations, and grassroots community coalitions such as the Council of Southeast Pennsylvania. Hundreds of thousands of individuals have found and sustained long-term recovery in this historic city thanks to the efforts of countless volunteers and professionals and no doubt many hundreds of thousands more will have the same types of opportunity as the city shows no signs of slowing its recovery efforts. 
With a community that has embraced the concepts of recovery such as Philadelphia has, it is no surprise then that it is also now a hotbed of cultivation of a relatively new type of recovery support – collegiate recovery programs.
Collegiate recovery communities are considered to have first begun in the 1977 at Brown University, which continues today in the form of a weekly recovery meeting on the campus. Over the course of the next few decades, a handful of other universities followed suit including Rutger's University, Texas Tech University, and Augsburg College as the fourth in 1997. While the growth was slow over this 20 years, since 1997 it has been a very different story. Today there are an estimated 150 collegiate recovery communities and programs around the country – from California to Maine, and most places in between. Communities and programs differ slightly, with communities often offering a peer supportive environment with recovery focused activities, and programs typically having become institutionalized and more formal recovery support services. 
Philadelphia, with its uniquely designed University City, is one of the most recent communities that has embraced the collegiate recovery movement. University City and the surrounding areas in Philadelphia are home to an estimated 300,000 students and nearly 20 institutions of higher education. Few other geographic regions in the United States can boast a demographic such as this, and it is this unique set of characteristics that has allowed Philadelphia to experience its recent surge in the creation of new collegiate recovery communities and programs.
Over the last 24 months, five of the major institutions have seen programs or communities created to support students in or seeking recovery; St. Joseph's University, University of the Sciences, Drexel University, Temple University, and most recently The University of Pennsylvania. All of the schools, except for the University of Pennsylvania, have efforts that follow the more traditional model of collegiate recovery – supporting students in recovery from substance use disorders primarily. The University of Pennsylvania, which has the newest community, has elected to follow the University of North Texas collegiate recovery model of integrated behavioral health, supporting students in recovery from substance use disorders, mental health concerns, and other quality of life concerns including those students with disordered eating, sex addiction, gambling addiction, or on the autism spectrum. All of the programs have been granted or are in the process of applying for, seed funding grants from the national non-profit Transforming Youth Recovery, which has pledged $1,000,000 in grants for the collegiate recovery movement in the U.S.
Katie Bean, Assistant Director of "Wellness, Alcohol, and Drug Education (WADE)" at Saint Joseph's University, had this to say of their program – "Saint Joseph's University has been at the forefront of advocating for students in recovery through awareness raising and asset building on campus and in our community.  It is critical for students to find peers who they can relate to and be open with about real life struggles and successes.". Bean is spot on, with all available research pointing to the fact that peer to peer recovery supports are the most beneficial to the long-term successful recovery of students.
These colleges are luckily not alone in the fight to combat the opioid epidemic plaguing the Northeast. Not only is Philadelphia home to all of the resources mentioned previously, but also boasts another organization that is fairly new to the recovery community – Young People in Recovery, which the Philadelphia Chapter is one of the oldest local chapters at 3 years.
As the true horror of the opioid epidemic takes hold of communities in our country it is imperative that we elevate innovative evidenced based solutions to help people overcome substance use disorders.
Previous Philadelphia chapter lead, Devin Reaves (also an alum of The University of Pennsylvania School of Social Policy and Practice, where the new collegiate recovery community is housed currently), has been a staunch advocate in the region for many years, helping get Good Samaritan and Narcan Access legislation passed in the state. Most recently, he worked with advocates and partners from around the state and the Association of Recovery Schools to get introduced legislation that would create additional recovery high schools in the commonwealth – which already has one in Philadelphia, the Bridge Way School. With his ties to the University of Pennsylvania, and the larger recovery community Reaves and Young People in Recovery have been instrumental in pushing forward the growth of collegiate recovery. With the recent surge of programs, he has worked with his current employer Life of Purpose Group to host a one-day summit for collegiate recovery training hosted at St. Joe's University on July 26th. "As the true horror of the opioid epidemic takes hold of communities in our country it is imperative that we elevate innovative evidenced based solutions to help people overcome substance use disorders," Reaves says, "Collegiate Recovery has for over other 30 years been one of those solutions. The time is now to focus on replication and expansion of these programs".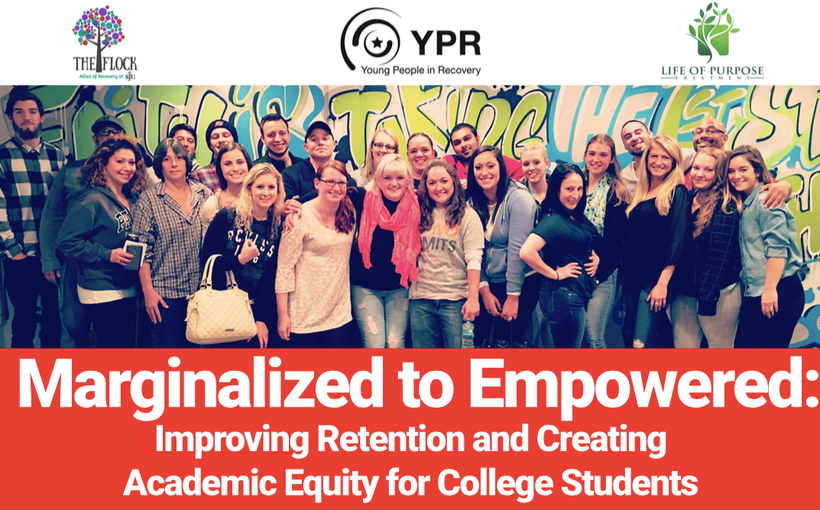 The momentum doesn't just stop with the creation of these programs and the training coming next month though; four of the programs – Drexel University, Saint Joseph's University, University of the Sciences, and University of Pennsylvania – are partnering with Young People in Recovery to host a fundraising golf tournament in August as well. The event, "Tee It Up For Recovery", will raise funds to help all the schools increase the availability of their resources and educate communities about their programs. It is events like these, the substance-free fun outings, that highlight the beauty of these organizations. For young people in recovery, it often feels like the fun has been sucked out of life, especially on a college campus where the culture is so closely associated with using drugs and alcohol often. For students in the Philadelphia region though, an alternative is available and it is available often and just about everywhere.
With the growth of collegiate recovery in a mega-hub for higher education such as Philadelphia, there is hope that every student at every one of the 4,000+ higher education institutions will one day have access to a community of recovery. While the 150 collegiate recovery efforts out there today is a far cry from 4,000, it is the efforts of Philadelphians and recovery advocates across the country that are moving the needle forward for progress.